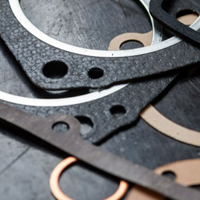 ABOUT MIDWEST GASKET CORP.
Midwest Gasket Corporation went into business starting 1977 with a goal in mind, to produce the highest quality gaskets and seals at the lowest price and provide outstanding customer service.
We started out as a die cutting manufacturer for the automotive, electrical, mechanical systems and heat transfer industries. More than 40 years later the same services are still offered along with knife cutting, molded, extruded and O-ring parts. Our customers include Fortune 500 companies as well as the small proprietor. No job is too large or small for us at Midwest Gasket Corporation. Our dedicated staff is here to help and get your sealing needs underway. Whether you need advice on selecting the right material, cost comparison of die cutting vs. lathe cut or molding or just don't know exactly where to begin, give us a call and we will do our best to answer all of your questions. We pride ourselves on short lead-times, one on one customer support, low minimum orders and gaskets free of defect the first time and every time. In 2012 Midwest Gasket Corporation achieved an ISO 9001:2015 certification so our customer can rest assured knowing that from the time job is started through completion of shipping parts, all aspects can be traced and certified through every step of the process. At the customer's request, PPAP's can be provided at little to no charge, using our state of the art software on our CMM. Gaskets can be verified within a .0019" certainty and our calibration services are A2LA accredited.
Same day emergency services may be available for your application.
We inventory many different styles of material and thicknesses. Some of these include but not limited to: Nitrile (Buna-N), Neoprene, EPDM, Viton®, closed cell rubber (sponge), cellulose fiber, vegetable fiber, vulcanized fiber, non-asbestos fiber, cork and cork blends, compressed sheet, PTFE, HDPE, graphite, silicone, and plastics. PSA (pressure sensitive adhesive) can be added to most any of these materials.
Contact us today to learn more about how Midwest Gasket Corporation can help you with your needs.
How We Work
Design
With application and heat range we can recommend suitable materials. From sample parts, drawings or CAD files, tools can be built to customer specifications.
Samples and PPAP
Prototypes and samples can be provided same day using customer supplied dxf files.On request pre-production samples and PPAP will be supplied before production parts.
Inventory
We carry sufficient inventories to exceed customer requirements.
Quality Control
Gasket material and tooling is inspected from receipt through final inspection and shipping.
Quality Policy
To meet or exceed all requirements through continual improvement and striving to meet our objectives
Certifications
Midwest Gasket Corp. is both ISO 9001:2015 certified. Download our

ISO Certification.
Payment
Midwest Gasket Corporation is both EDI and ETF capable. We'll work with customers on terms if requested.
International
Currently we manufacture and ship gaskets to over 20 different countries spread across 4 continents.
Shipping
Orders are typically shipped in 2-3 weeks by the most economical means or to the customer's request. For emergencies, gaskets may be available the same day for shipment.
Return Policy
If for any reason the order is not processed correctly, please notify us and it will be corrected to the customer's satisfaction.
Emergency Services Call: 317.605.1847 and leave detailed message.